Glamcult – June 2020
In conversation with Elaine Mitchener
"Honouring the experiment"
"With every performance I'm searching for a totality of expression, to fully unify and amplify the musical, physical, emotional, and political aspects of each work."
Experimental artist Elaine Mitchener works with voice, movement and composition. She encompasses the avant-garde creative world within all of her pieces, creating performance art which resonates with its audience. Born in East London to Jamaican parents, Elaine harnesses her experiences and influences within all of her work. For the Holland Festival this year, Elaine 'honours the experiment', when discussing the American avant-garde period of jazz and the 60's and 70's influences on music. Check out the podcast below, as there is always something new to learn!
Hey Elaine! Could you tell us a little about yourself as an artist?
Essentially, I'm a singer. I started out in gospel groups, then trained as a classical singer at Trinity College of Music where I began to perform contemporary classical works for voice. I've also worked extensively in experimental and free-improvised music and Avant-Garde jazz. All those experiences make my voice into the instrument it is. My work is all about live performance; I don't really make recordings. That's because most of my performances combine the voice with arts that are physical or visual, like movement, theatre, dramatic staging, and so on – the music and vocalising are only one aspect of it, or rather, the music and vocalising are utterly contingent on being combined with all these other aspects, they all influence and impact on each other to change up each performance. As a performer, I aspire to give my utmost at every moment. I combine vocal work with movement and texts by many African and Afro-Caribbean writers and try to push both my voice and body as far as I can in terms of exploring their expressive possibilities, as well as testing out the physical limits of my own abilities.
What an incredible journey, how has all of this felt?
A long, hard learning curve that has mostly been uphill!
Being such a multi-disciplinarian; how do you incorporate all of these skills within your performances or rather how do they play off one another?
With every performance I'm searching for a totality of expression, to fully unify and amplify the musical, physical, emotional, and political aspects of each work. How I do that comes down to spending a lot of time thinking about how to approach work, reading and researching source materials, then discussing it with my collaborators, whether they are fellow musicians, or choreographers, or consultants, or lighting designers, and then working all these things out in the rehearsal room, where plenty of blood, sweat and tears are shed!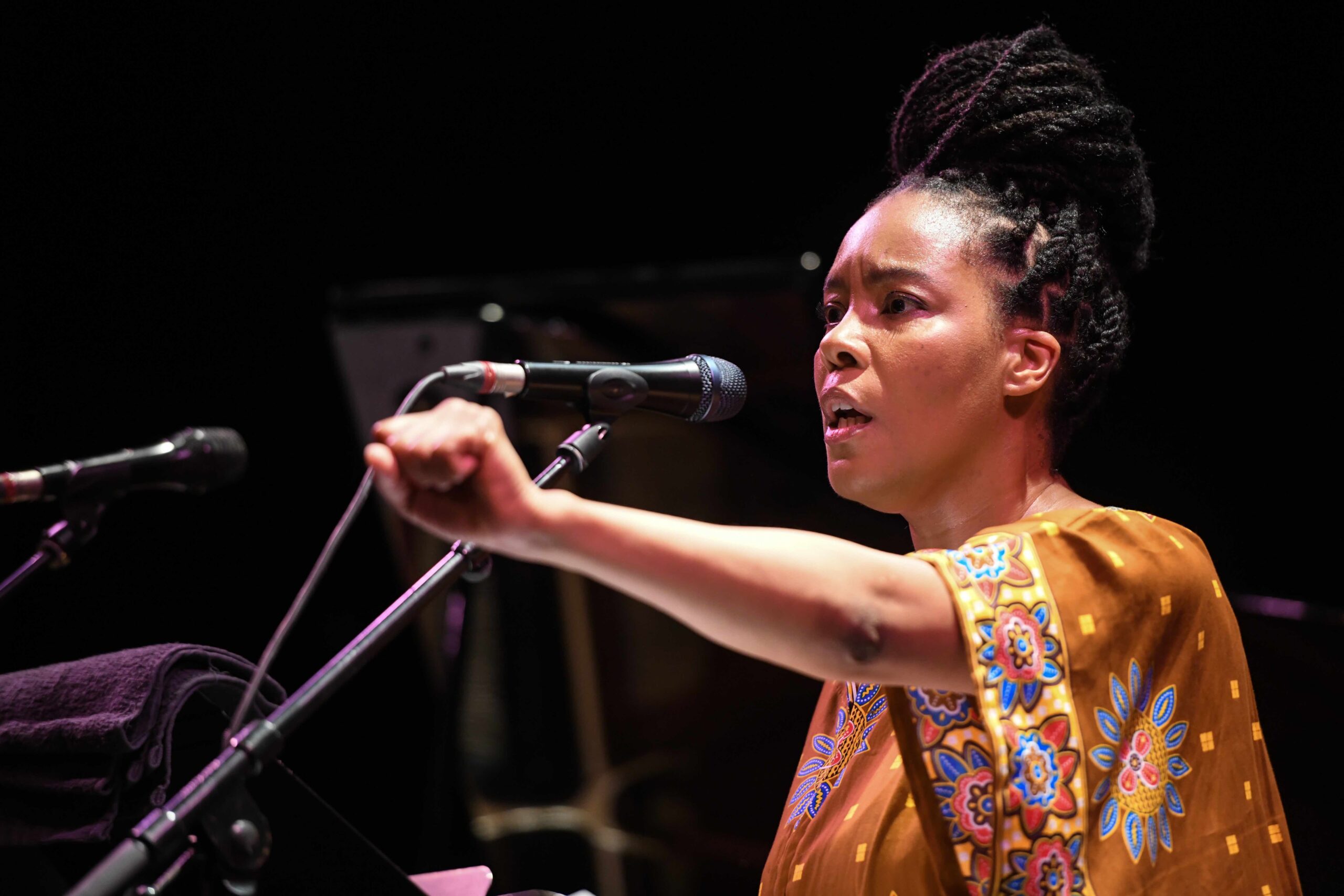 How influenced are you as an artist by your environment or those around you?
I was born into an Afro-Caribbean family in the East End, London and that kind of thing definitely helped to create my sensibilities, in terms of the values that were handed down to me by my parents, or the realities of my own experiences growing up black in Britain. There was an emphasis on self-reliance, self-respect, self-belief, and knowing your own history, but also the importance of having a good time, of being joyful! But every bit of experience I have had, from the profound to the mundane, feeds into my work and affects it.
And who have been your biggest influences creatively (you have a very impressive list of people you have worked with!)?
I'm not sure I can cite any direct influences from any particular artists or musicians, but whenever I encounter great art in any form it is inspirational, it inspires to me to continue to make my own work and to take it even further, to amplify and elevate it. For me, inspiration, not influence, is what the experience of art is all about.
The atmosphere is, of course, a huge aspect of performance. Having performed in such varied and interesting locations, how do you feel this impacts the shows you put on?
It depends. It doesn't determine what I'm doing. I am sensitive to the performance space and aware of the energy or vibe of the audience of course, but I try not to let these things affect the kind of performance I want or need to give. With every performance, I give I am clear about what I am trying to achieve. So if anything I try and absorb and utilise these energies, of the space, the audience, as a positive force, even if the space is not ideal, or the audience is indifferent or even hostile!
Any locations which have stuck out to you the most?
Years ago at the ancient Theatre of Epidaurus in Greece, where I performed in an ensemble supporting Jessye Norman. As a location, it's hard to beat.
What brought you to perform at The Holland Festival?
Frank van Berkel from the Bimhuis was interested in having me perform at the venue and got in touch. I was delighted with the prospect of bringing Vocal Classics of the Black avant-garde to the festival. It is an important project for me, as a black avant-garde singer, and it involves some of my closest musical collaborators: Jason Yarde, Anton Lukoszevieze, Mark Sanders, Dante Micheaux, Neil Charles, and Alexander Hawkins. As a singer, it is an amazing experience, being in the midst of such a group!
Finally, who or what are you most excited to catch during the Festival Programme?
Impossible to choose. Bill T Jones has curated a fantastic festival.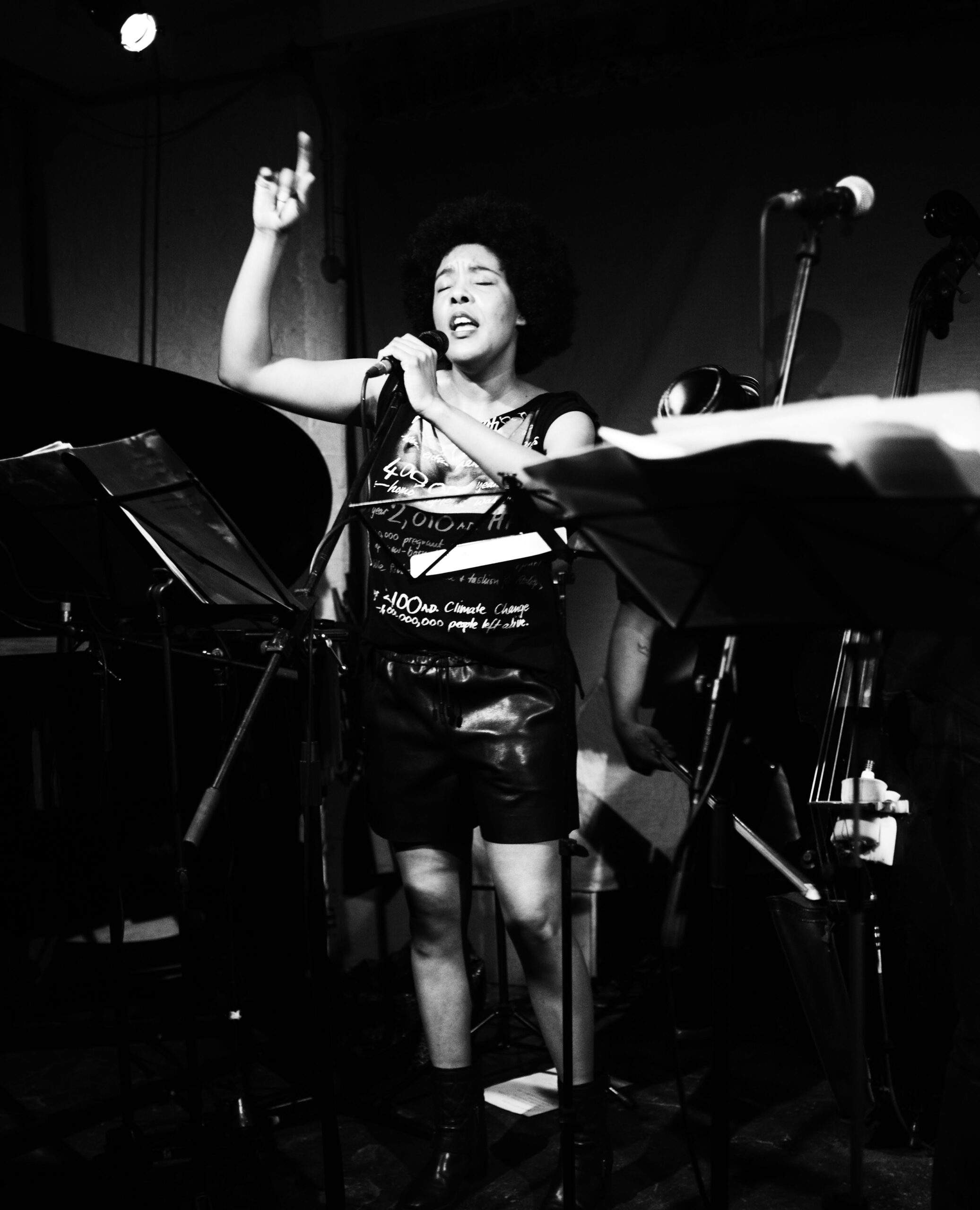 Check out the podcast by De Groene Amsterdammer above!
More info on Elaine Mitchener online.
See the full Holland Festival programme here.