The Guardian – 22 December 2018
The week in classical: LCMF review
Fiona Maddocks
"Elaine Mitchener's b r e a d t h b r e a t h (2018, world premiere LCMF commission) had an improvisatory mystery, arriving and departing slowly and delicately."
Just as the year sinks into its soft, candied-peel-and-spice dying days, along comes the London contemporary music festival to waken the senses like a smack of birch twigs. LCMF's early years were a movable feast, in date and venue. Now it's a mid-December fixture, taking place chiefly in Ambika P3, the former concrete construction hall deep beneath Westminster University. This year's festival boasted a profusion of events ranging from a Death of Rave all-nighter to the world premiere of Gerald Barry's wonderfully belching and eruptive The Destruction of Sodom (2015), for an army of horns and two wind machines. Now in its stride, the festival has its own LCMF orchestra, conducted by Jack Sheen, and has commissioned several new works.
The 2018 theme was Sounds of the Thick Present, not a reference to current politics but a quote from the American philosopher Donna Haraway (see her book Staying with the Trouble: Making Kin in the Chthulucene). Mercifully its meaning was precis-ed in the programme as chipping and shredding and composting time as well as ideas.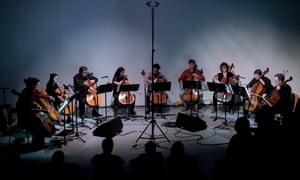 Elaine Mitchener's b r e a d t h b r e a t h (2018, world premiere LCMF commission) had an improvisatory mystery, arriving and departing slowly and delicately. Apartment House, consisting of 10 cellos, and the experimental singer Sofia Jernberg, gave the UK premiere of Julius Eastman's The Prelude and Holy Presence of Joan d'Arc (1981), expressive and touching. A highlight of the evening was Annea Lockwood's tiny Gone! (2007): a wind-up toy piano, tethered to a large bunch of helium balloons, jingles ethereally in the cavernous subterranean space. It almost felt festive.
LCMF ★★★★